The Guide to starting a Writing Bullet Journal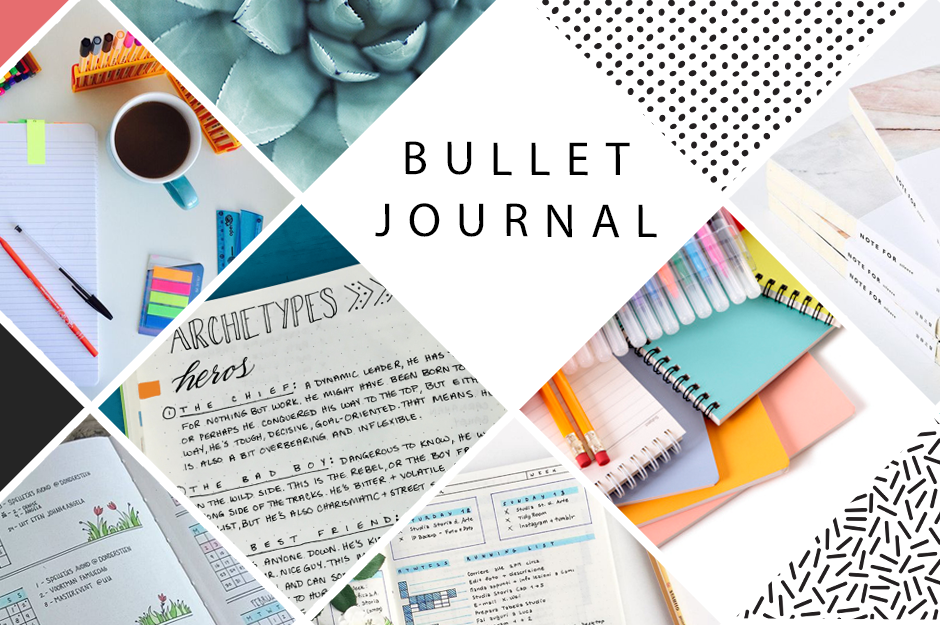 You may have heard of Bullet Journals — notebooks that are transformed into daily planners for organizing life in a much easier method. In a way, bullet journals are harder to manage than daily planners, but somewhat also cheaper. Daily Planners are full of color, tags, stickers and what-not, all designed to be that way (and some of them cost about $400. Yes, you read that right.) Bullet Journals are easy – pick a notebook and a couple of plans, and you're in for the ride. They are a way of letting your creativity out while also organizing your life.
Traditionally, bullet journals are made to organize daily life — doctor appointments, yearly goals, check-lists, grocery lists, tasks and other things you might have to do on a daily basis. For college, for example, you can write down essays and dates, organize tests and exams. You can look up some of the designs in my Pinterest board, if you're interested. But what I'm going to talk about today is making a Bullet Journal to organize your writing.
Unfortunately, while looking up Bullet Journals, I couldn't find anything specific about writing. But as soon as I saw the journal, I knew that was what I was going to use it for — organize my time, my ideas and the projects I was working on. So I decided to inspire myself on the original designs and make one Bullet Journal that can reflect the writer's life. This is how I did it.
The method is quite simple. Pick a notebook (I recommend one with thicker pages, so the writing doesn't stain the other side, it can be ruled or blank), grab your pens and color pencils, and let's get to it.
The first pages of your Writing Bullet Journal should be your key and your index. The key is that so you may be able to code your tasks more easily, whether you've completed the task or have something special marked for that writing day. It can be revising, drafting, writing a blog post, or anything writerly-related. The Index, of course, is so that you can find your pages more easily. This is what my Index looks like: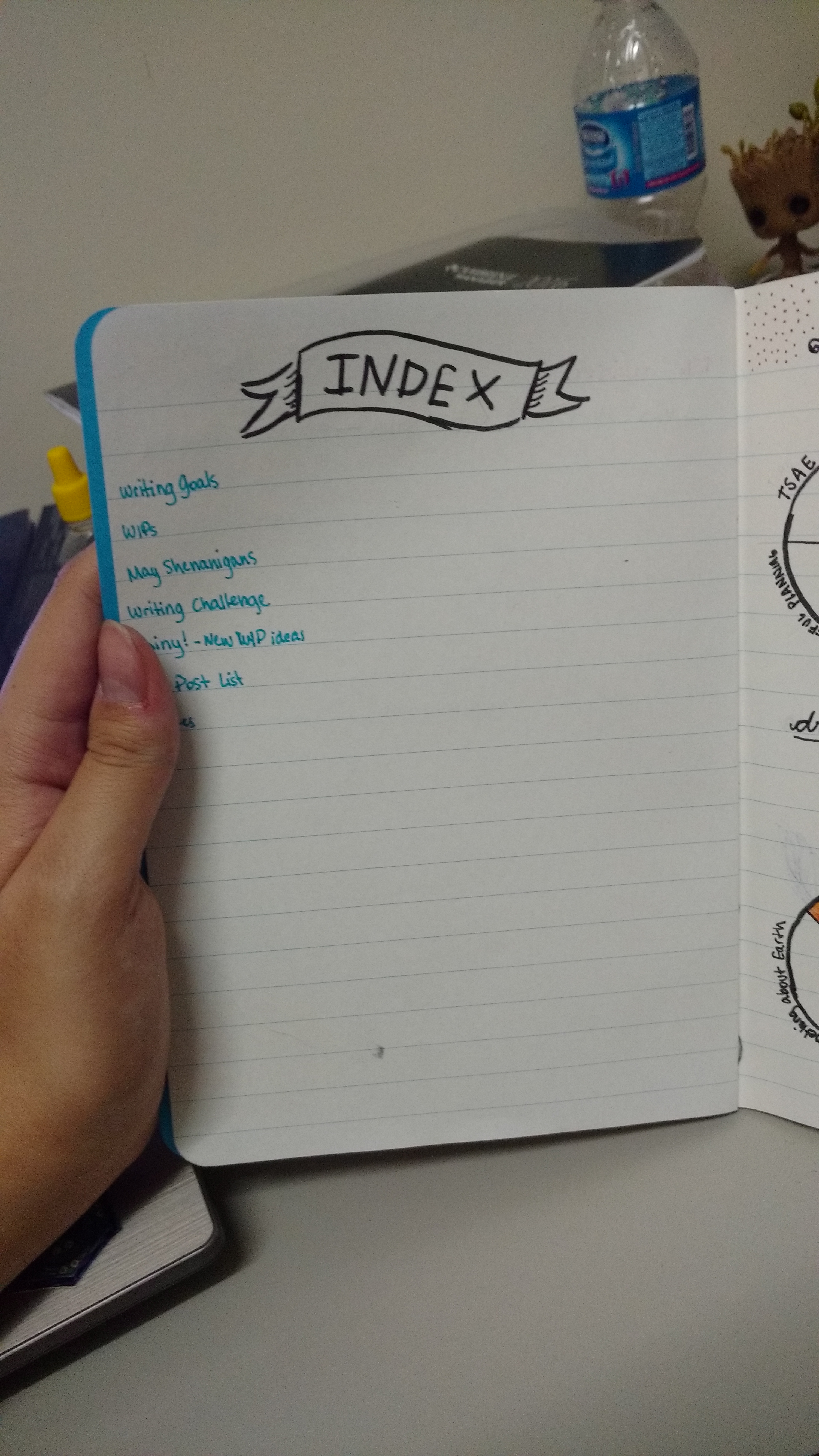 Ignore all going on in the background.
After that page, it's time for your yearly writing things. On my own journal, I've inserted the 2016 Writing Goals — drafting, revising, querying novels and what projects I'm working on.  My goal this year is to revise 4 novels, draft 3, and query 2, depending on how things go.
Although I've used a pizza graph, I realized a while later how stupid a decision that was. Pizza graphs are pretty and fun, but they're not the best way to keep track of your progress. I would recommend a bar graph, and you can separate things by the thousand words — either drafted or revised. For querys, the numbers of query sent, and so on. This is what my Writing Goals page looks like: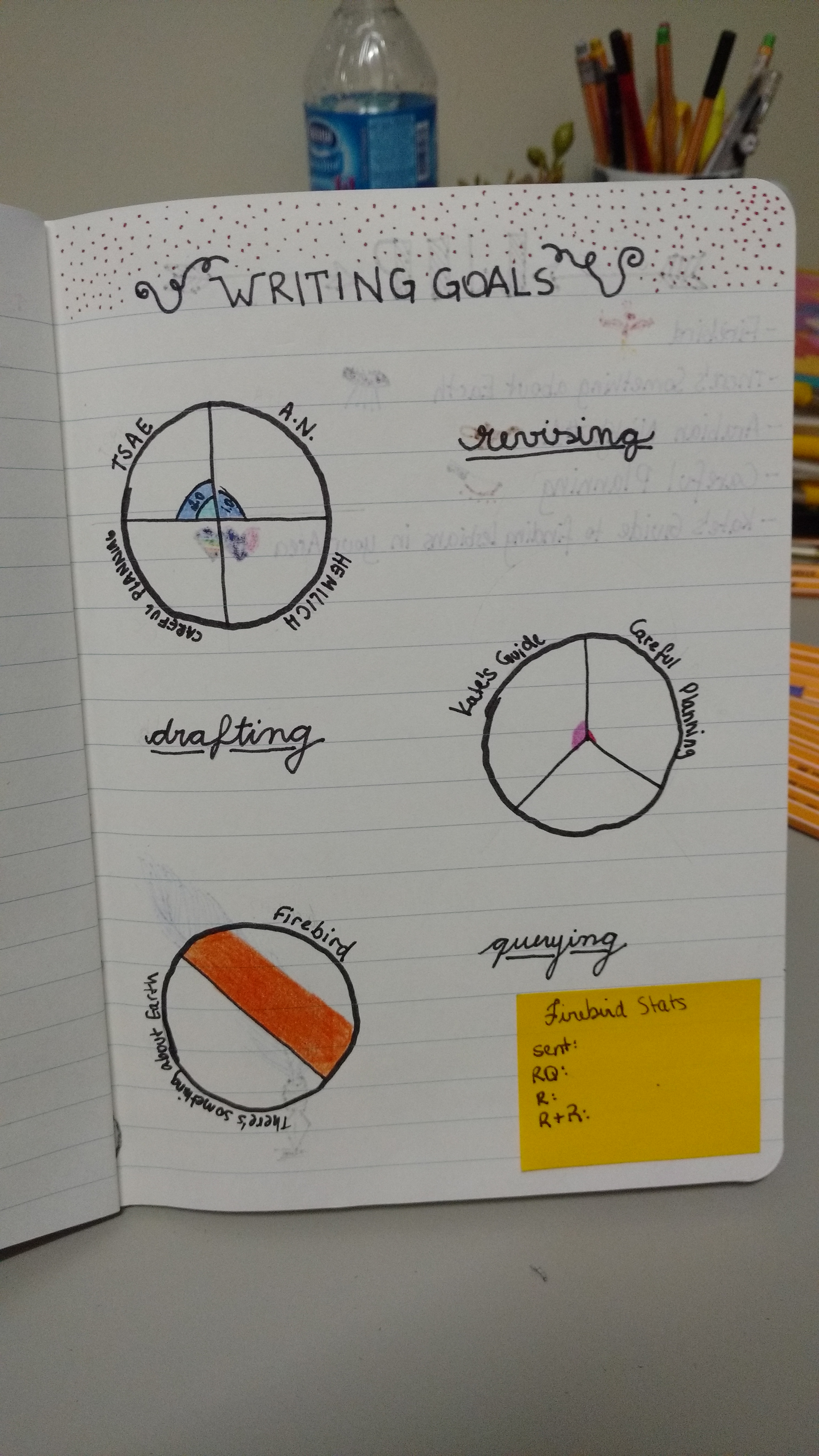 The next page is the 'Works in Progress' page – this is where I inserted all the projects I'm working on this year, either with drafting, revising or querying. It's easier to keep track of a small list, and you know exactly what you're coming back to. It also doesn't have to be definitive — many of these are only working titles, but the fun part of the Bullet Journal is that you can doodle everywhere and make it prettier.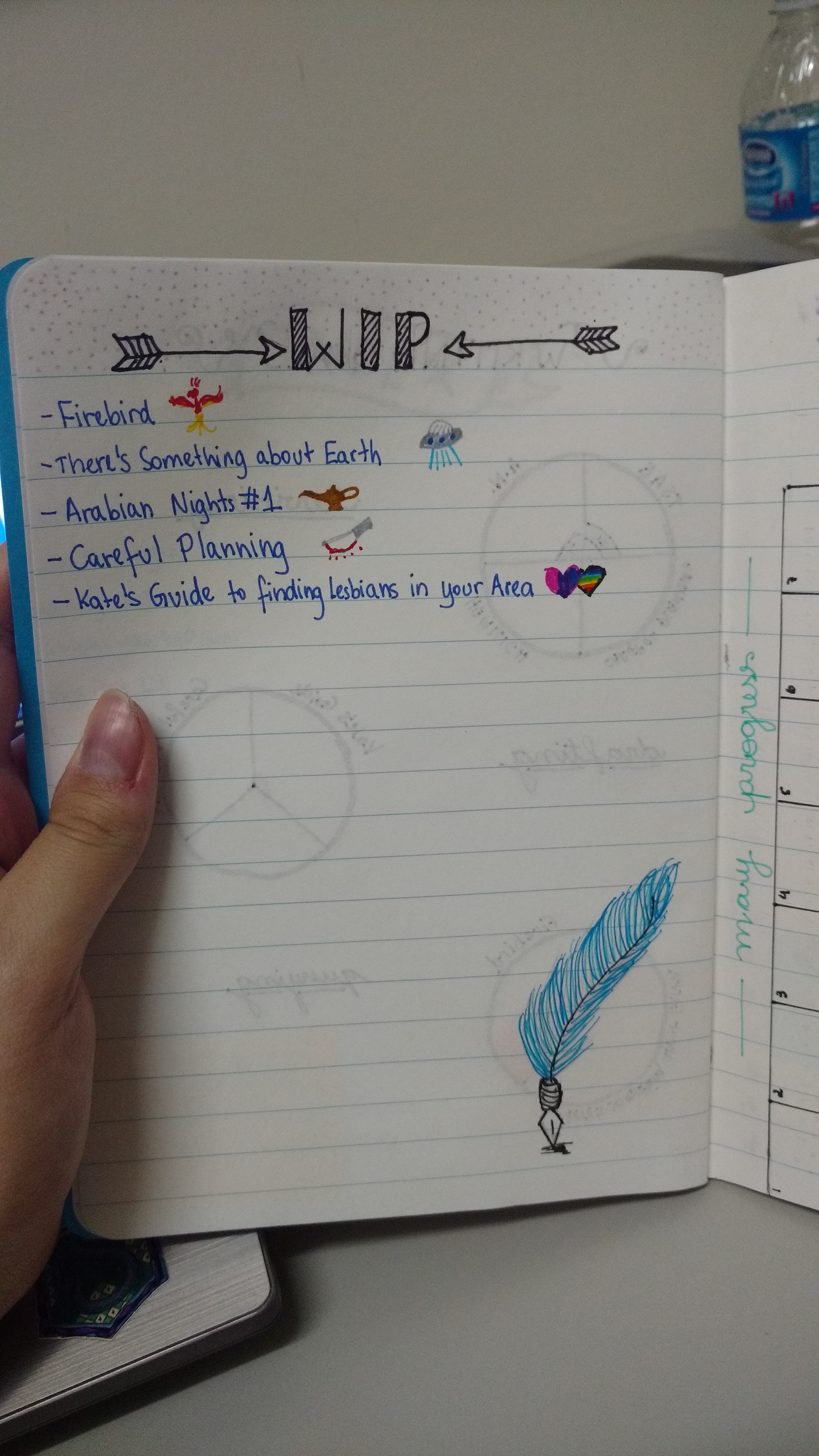 As it were, organizing something is not quite simple. I only thought I needed two of these pages to keep track of my year, and only later realized there were many more things that I could've inserted. I've inverted the order of the post, so they show up here first, but on my own journal, these pages come after the May progress pages I've set up.
The challenge page is up first. As Susan Dennard put it in one of her previous newsletters, it's important as a writer to keep challenging yourself further and further in your writing. That means writing a novel from a different POV, a different genre, taking emotions further on your book. Don't settle on your writing, but take extra effort so it becomes better and thus, you become a better writer. Here's my challenge page (which is empty for now):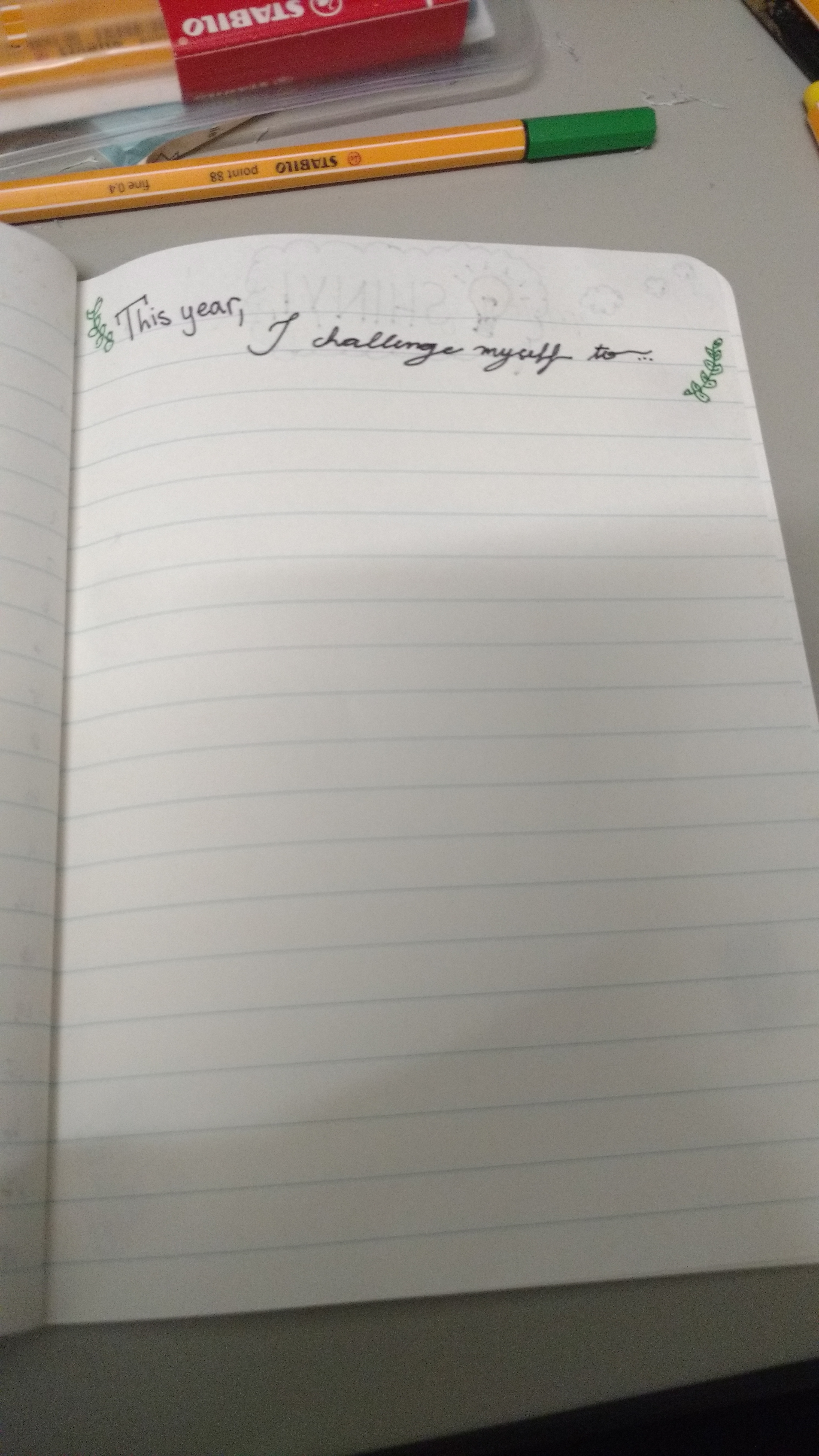 The next page up is the SHINY NEW IDEA page, which might be my favorite yet. Here you can write down and keep track of small ideas that have popped up in your brain. I'm probably going to do them on cloud form, but the great thing about Bullet Journals is that you can design a new page WHICHEVER way you want. Pop in unicorns, cupcakes, ice cream, pretty much whatever the hell you want.
The SNI page is very useful so you won't forget ideas for WIPS you had. You can probably write down ideas for what you're working on now (or open a new page for each project, and write them down there, which is what I'm going to do). The thing about bullet journal is that you're meant to take it with you everywhere, so it won't be far and you can just put together all your ideas in the same place.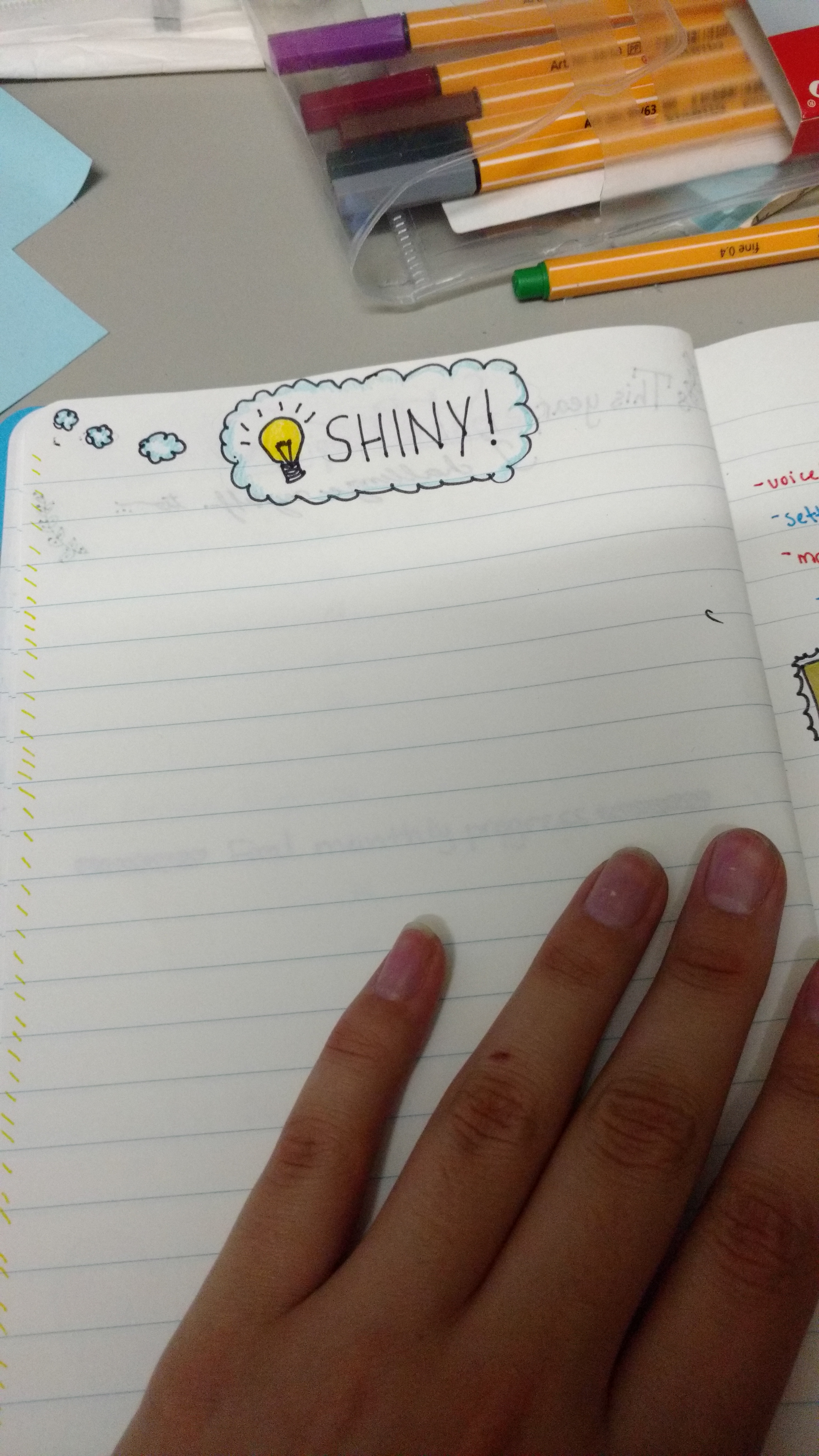 I've also started a page for blogging ideas — I like to blog about writing and pretty much everything else related to it or tv shows or what's happening in my life right now, but these ideas are specifically related to writing. I decided to put them all down in one place so I won't forget them.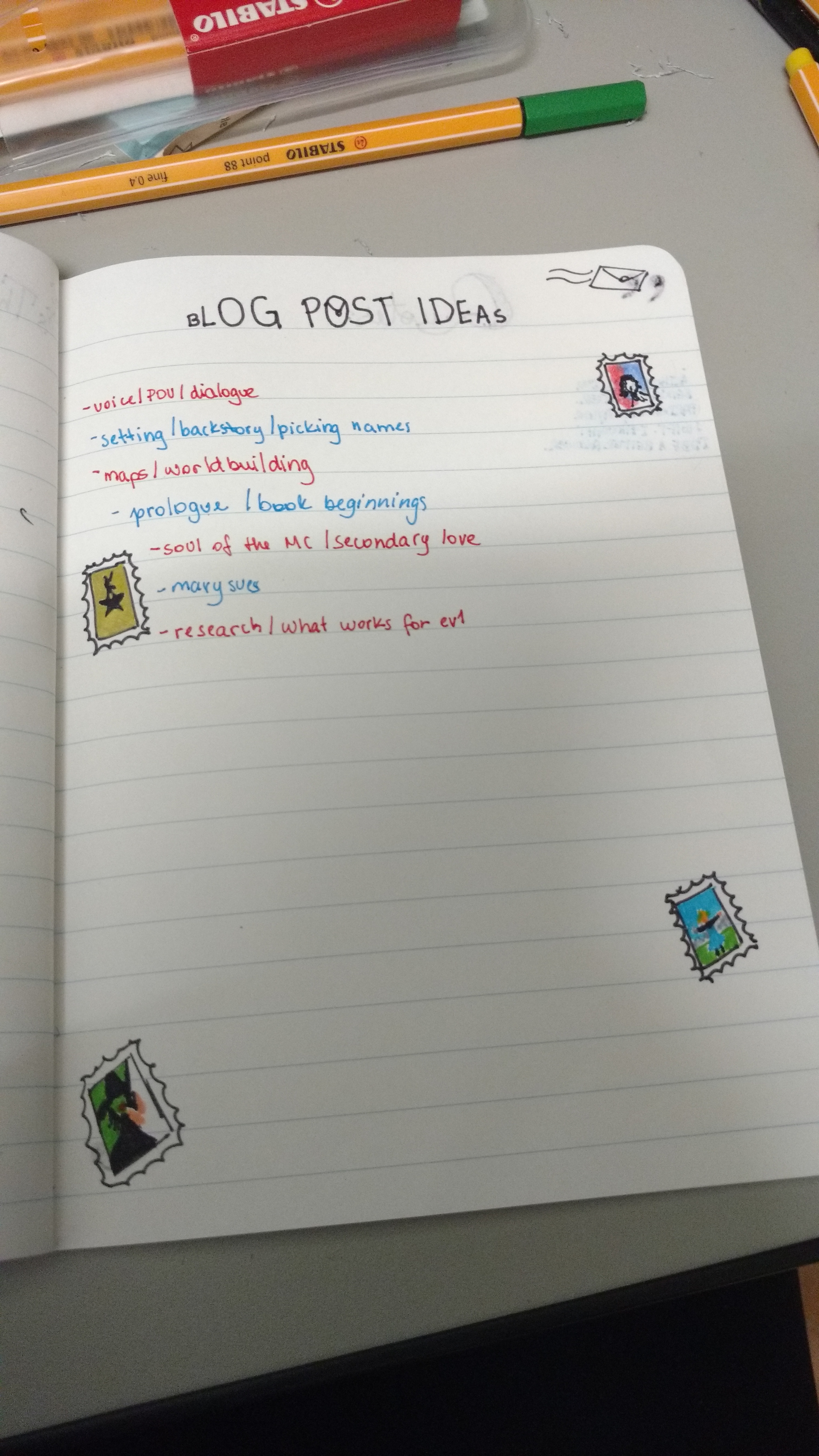 The next page is for quotes. You know those quotes, that you write sometimes, and that are so pretty you want to keep them forever? You just love them so much, and you never want to let go of them? Write your favorite quotes of your writing here. It'll keep you inspired, and remind you that not every day in writing is crap. Remind yourself that you're good enough.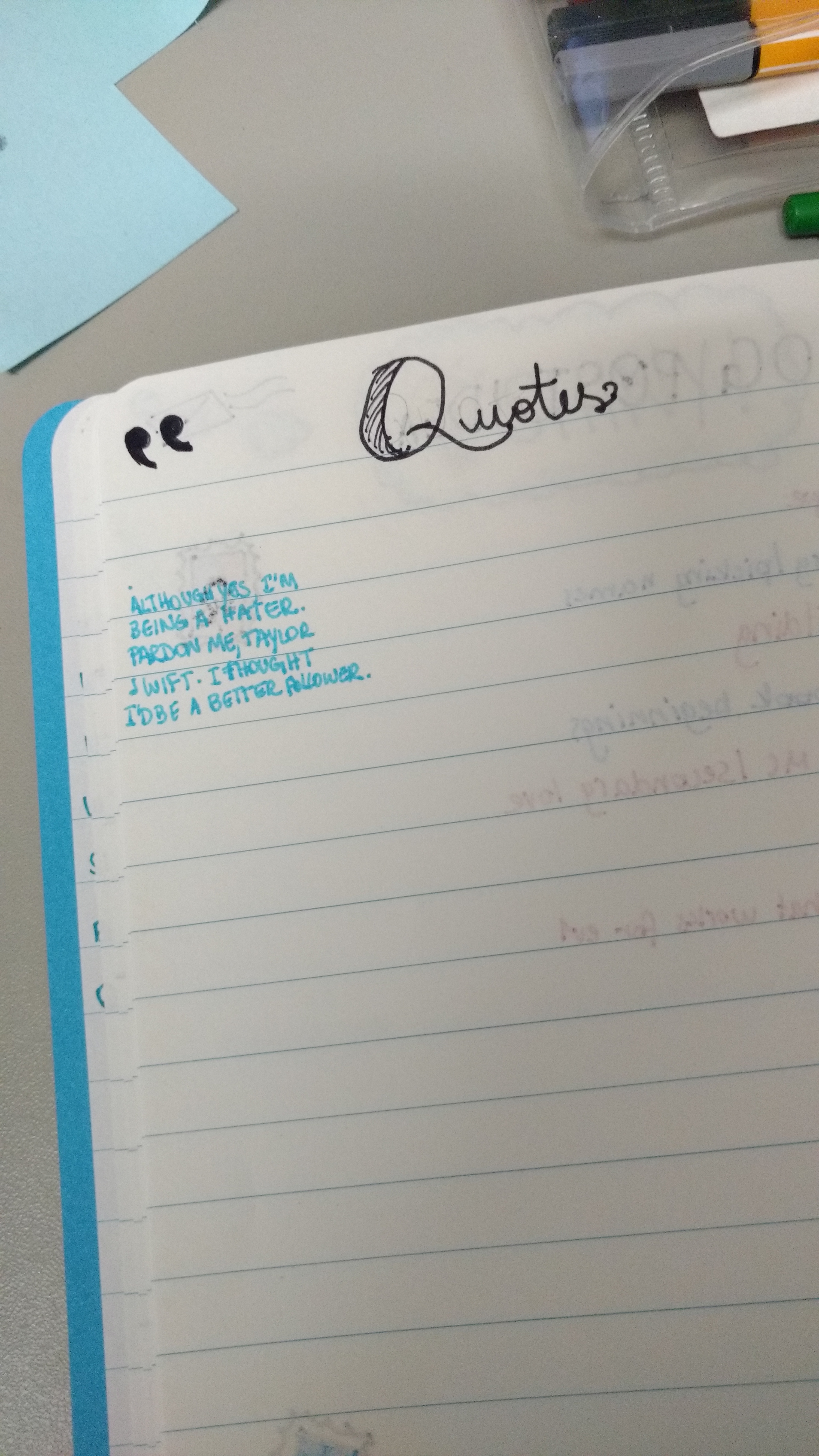 Again, as I said, you can open a new page for each current project and write your ideas down there, too. But from now, I'm going to jump in the monthly pages.
In regular bullet journals, you have the monthly pages, then you have weekly/daily. That wouldn't work for me (because I'm lazy, in a way) and because writing is a marathon rather than a 200m run. Your progress shows up daily, yes, but it's harder to keep track of things on a daily basis.
To do that, it's easier to make a monthly progress calendar, and that's what I did. The first page is an actual calendar, where I've set up a key so I may organize myself. (All symbols change color according to what project I'm working on).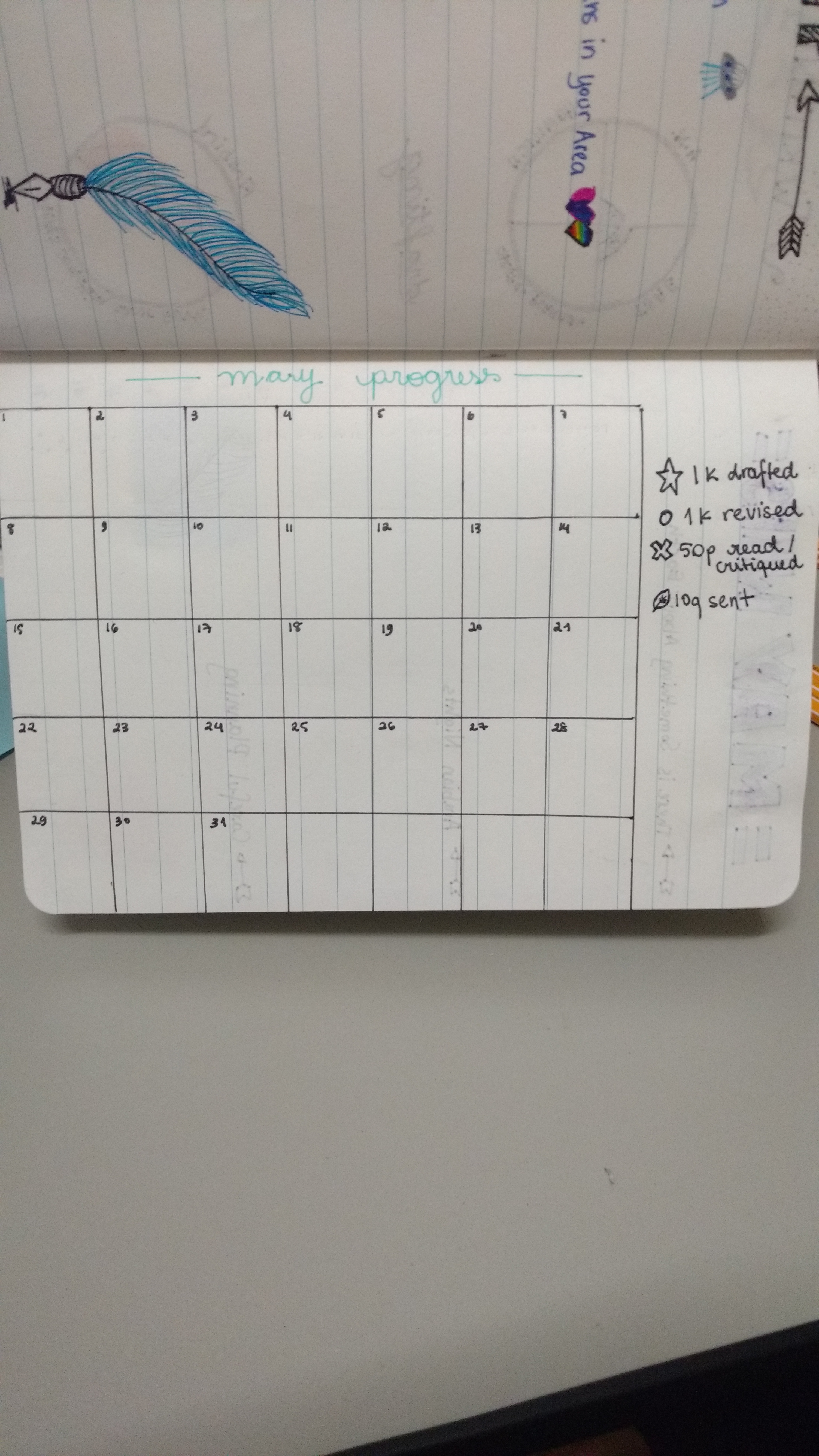 Next page up is the "May Wips", which is the easiest way I can keep track of what's happening to each project monthly. Did I write another 10k on it? Did I revise it? Did I change the beginning? It all goes down here.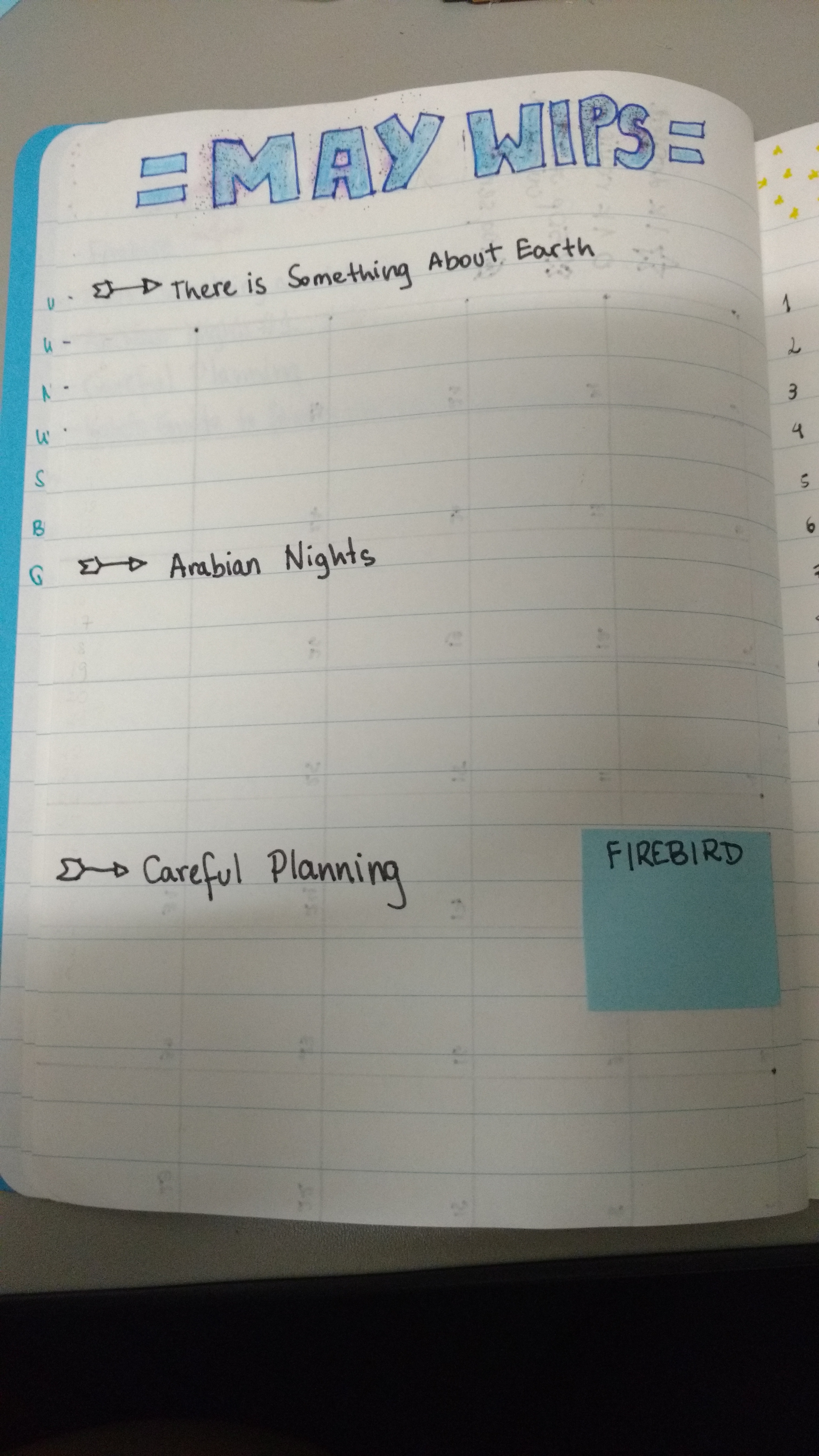 The May Calendar is so I can keep track os tasks set, like twitter pitch parties and other writing-related things I may want to participate in. If I need to write a blog post, I'll mark it here. If I need to revise something urgent, I'll put it here. If I need to finish critting a CP's work, I'll put it down here as well.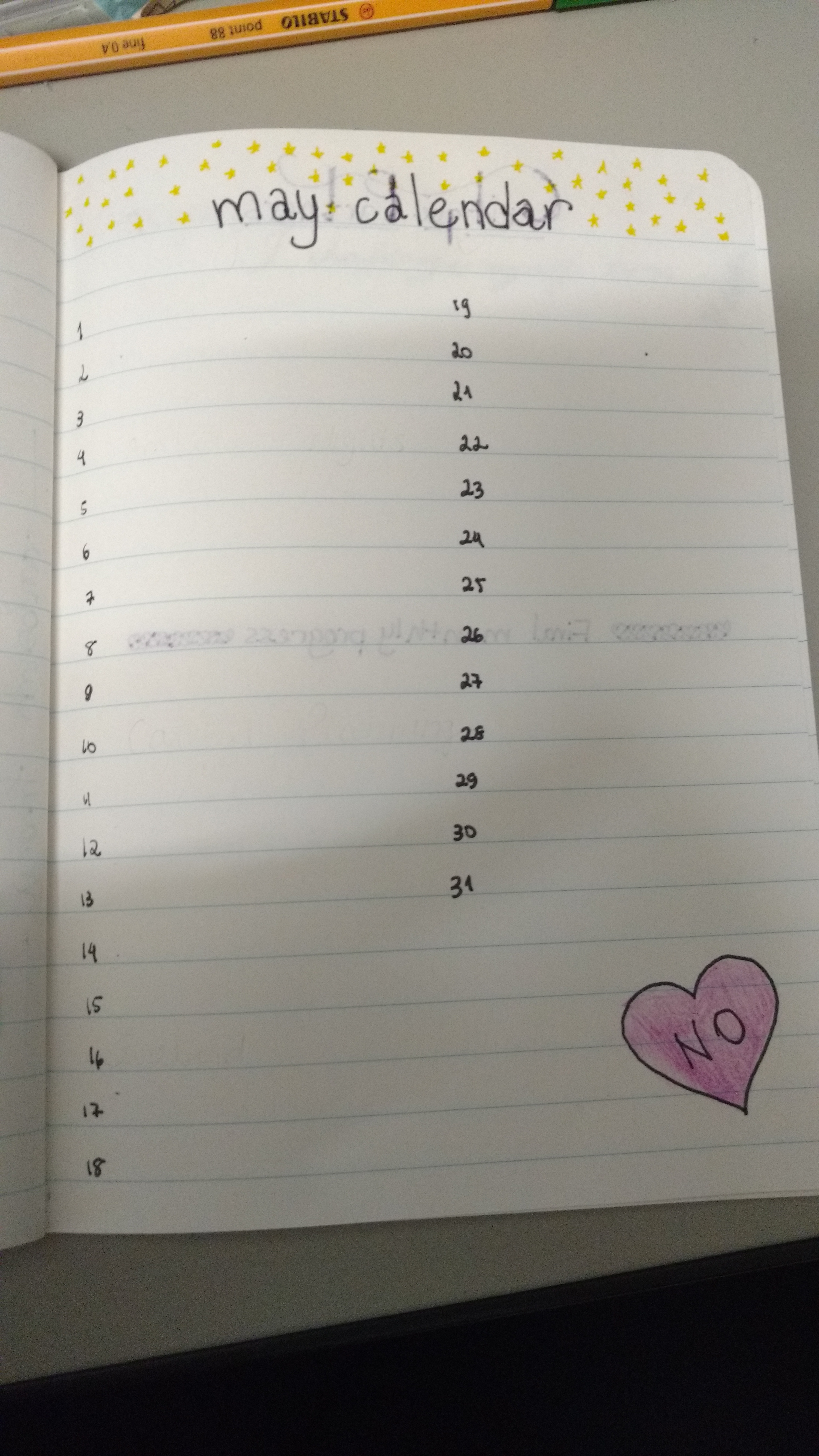 Next page is divided in two, which is the 'Critique Partners' session as well as a "Final Monthly progress". The CP section will have what I read this month for each CP (color coded) and what was the latest version of the work I read. That way, I can keep track of the CP's projects and what I need to read still. The Monthly Progress is so I can record the final progress of the month — how much I did for each project during May, and my general writing thoughs. Did I accomplish everything I set out to do? Do I want to challenge myself further next month, and in what project?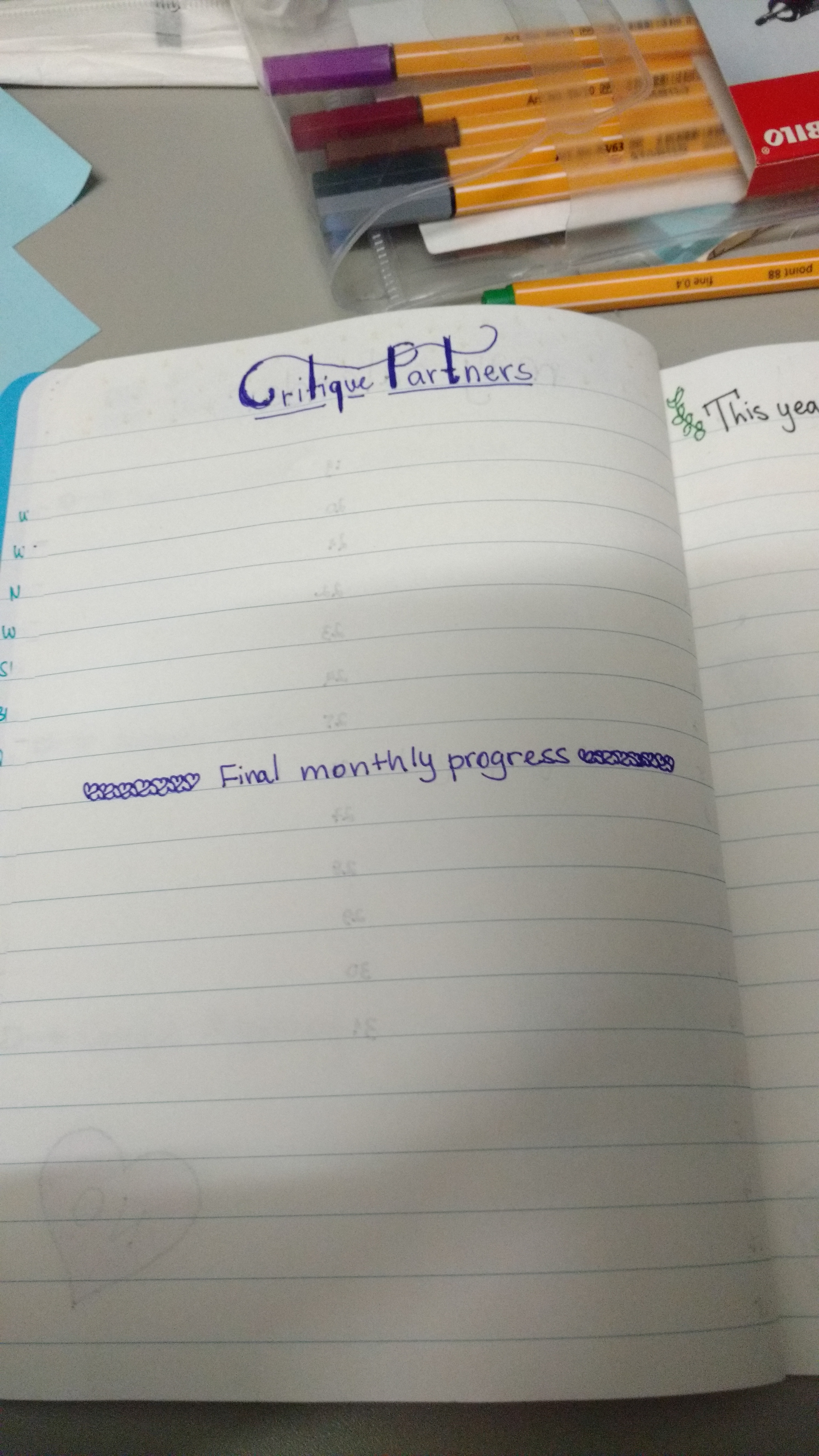 These monthly pages, of course, will repeat themselves, since it's one for each month. I've had great fun designing them, and likely will have more fun in the upcoming months. I'll update the post or write a new one if I come up with any ideas for pages or things that should be included. The final goal, of course, is to keep track of all your writing in a single place — as well as make things easier for you to find.
What do you think? Are you going to start a new writing bullet journal? And if so, what else are you including? I'd love to hear new ideas!
Disclaimer: This is not by any means a definitive guide to a Writing Bullet Journal, they are merely the ideas that popped up in my mind as I was organizing myself. Take it all with a grain of salt, but I'm an INTJ, so I'm pretty good at organizing EVERYTHING. Do whatever you want with the pages, with the headers, with the colors and the calligraphy. Buy new material from scrapbook stores and insert it within the pages – I've only gone there after I'd done most pages, but I've glittered them up a bit so it looks fun. This is an exercise in both creativity and organization, so keep it fun, and take your own needs into account, ALWAYS.